EURO BAMBOO Assembly Pics

Standard 15" Base

Cabinets arrive in a RTA "FLATPACK"

You should ID all the parts before starting

insert posts into both side panels

Attach 2nd side panel

attach back panel

note how drawer guides clip to drawer box

attach drawer guides to side panels

attach drawer head to drawer box

assemblers comments below 8-2009

THE GOOD ...

Nice uniform finish on the face. Veneered edges of the plywood panels looked great. Assembly points were pre drilled and clearly visible. Cabinets go together tight and square... The cam locks are hidden and not visible from the front. The pre assembled dovetail drawer box is extra sturdy and nicely finished. The telescoping drawer glide system worked smoothly and includes the self close - soft close features. The "euro" hinges also have the soft close feature so you can't slam the doors or the drawers.

THE BAD ...

no instructions! Although each piece was easily identifiable and pretty much self explanatory, a simple diagram or parts list might have helped my comfort level. The veneers on the side panels had a slightly grainer finish than the face pieces but the matching stain blended the box together well. There was a precise count of screws, cam locks, post, etc. No Extras. I would like to have seen a solid wood nail strip rather than the plywood. The hinges required a bit of tweaking to properly align the door.
We've had several clients ask us, "is the door solid bamboo?" ... It was a bit difficult for me to imagine a solid piece of bamboo (3/4" thick) so I cut open a drawer head. Below is a pic of what I found. Laminated layers of bamboo. The Stain penetrated directly into the wood so its not just a veneer on a lesser wood although "solid" might be a bit of a stretch.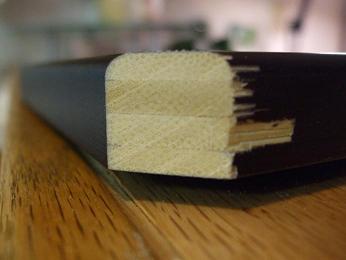 Offices in Daytona Beach, FL 386-761-4946 fax 888-761-8050
Office Hours Monday thru Friday 9:00am to 4:00pm EST